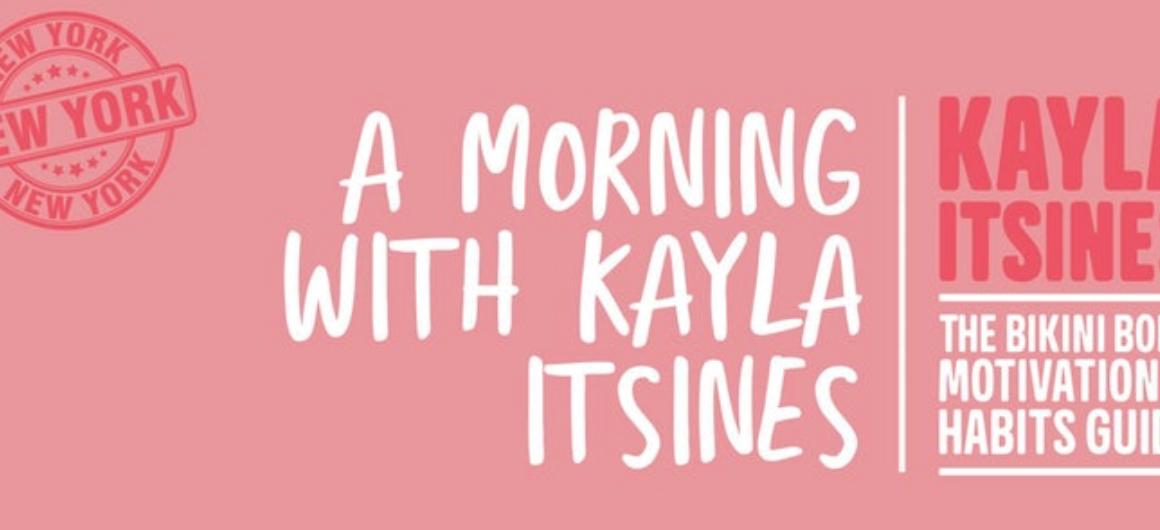 Y
esterday, I attended the event "A morning with Kayla Itsines" in New York City. The morning included a breakfast, a presentation of Kayla Itsines' second book "
The Bikini Body Motivation & Habits Guide
" including a signed copy of it, a goody bag – I'll list below all the items that were included – and a meet & greet. The ticket price was $58.37.
As you might know, Kayla was the one who changed my lifestyle a couple of months ago as I started my fitness journey with her BBG programs. Now, that I've gained a lot of knowledge in this field, I still think that her programs are a great guide for a healthier and active lifestyle.
This book tour event was the second time I met Kayla in person. The first time was at the beginning of this year at a BBG Meetup in New York City, where a lot of girls got the chance to work out with her. Since this first one, I always try to attend her events. Many of you haven't been to one so I thought it might be helpful if I would share my thoughts about it.
98% of women surveyed said they felt insecure at some point. - Kayla Itsines
Yesterday's event was dedicated to her second book and a perfect chance to pick up some personal tips on how to stay motivated and on track with your health and fitness journey.
The event started at 9:00 AM at the Redburry New York Hotel, located in NoMad district on the east side of midtown Manhattan. I arrived early and got the chance to talk and meet other BBG girls. It was a great time chatting with the girls and I learned a lot about their fitness journey, too.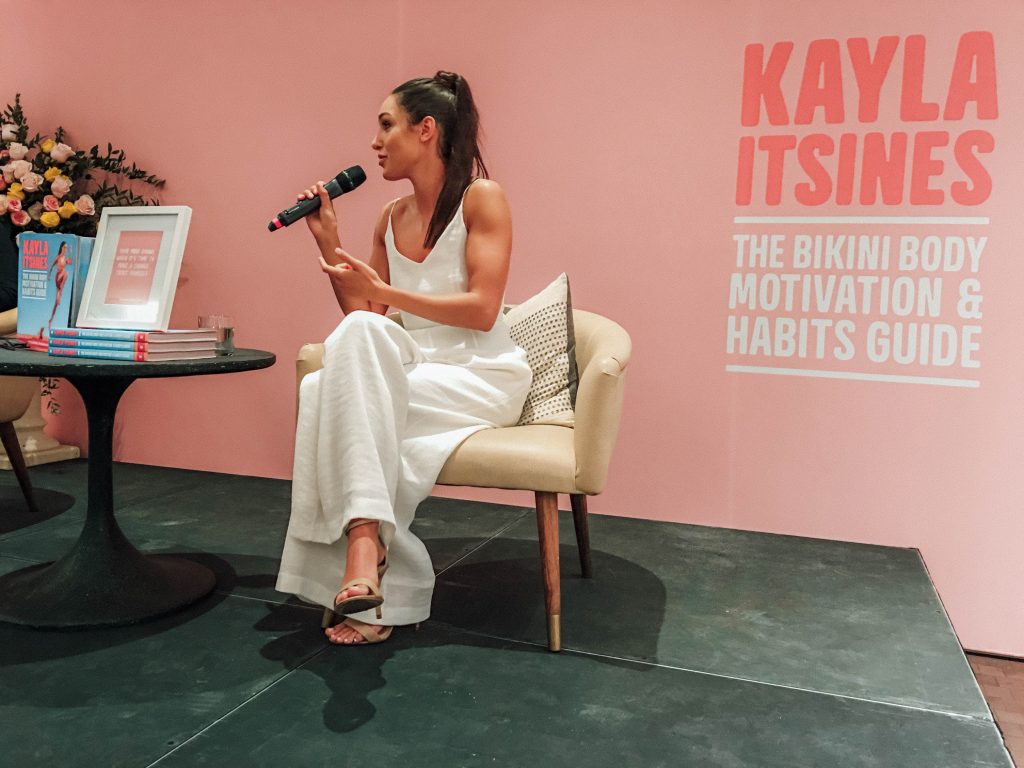 About half an hour after I arrived, the hotel started to arrange the breakfast and Kayla arrived at the hotel. The group of girls grew every minute and we started to line up and waited patiently until the room was officially opened. After all the girls (and one guy) found their seats, we grabbed some breakfast. The breakfast included yogurt, fresh fruits, oats, croissants, juices, … and many more healthy breakfast options. There was enough time to get back to our seats and enjoy the breakfast.
Kayla came into the room and everyone seemed relaxed and was looking forward to hear her motivational talk including several tips and tricks and a background information about the second book. She explained the idea behind this book and the surveys she did with thousands of women which plays a major part in this book.
We feel so demotivated sometimes that more than 56% choose NOT to train because of how we feel about our bodies - Kayla Itsines
During her talk about the survey I was shocked that so many women feel this way and I recognized that at one point during my own journey I had been at that exact same point as well. I indulged in cake and felt unhappy und uncomfortable the next day, which resulted in not working out. I preferred sitting on my couch over working out, just because of that piece of cake. YES, I did blame myself for this piece of cake really hard and I'm sure I'm not the only one. One reason why I really love this book is that Kayla addresses habits like that in it. Even more important she explains them and gives you the chance how you can identify your own bad habits and more importantly how you can overcome and change them over time.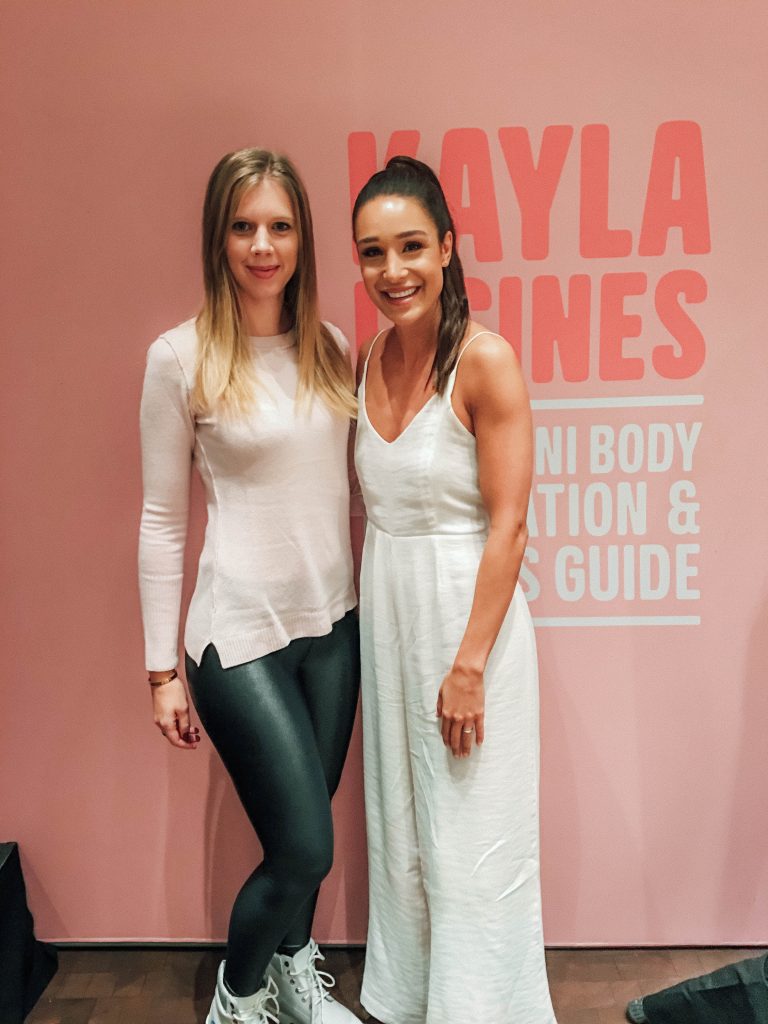 Another relevant topic Kayla touched on during the event is diets. Diets are unfortunately a big thing nowadays. It seems that several new diets pop up every week and a lot of people just try them without questioning or knowing the background and reason why the diet was even published. Many of us just trust the magazines or so called "influencers" on social media who in some cases don't have proper knowledge about it. Why don't we question topics like this more? We just accept the fact they are here and try them. YES, I feel guilty too, but thanks to my Personal Trainer background that I have now, I'm able to identify more or less trustworthy authors and I started to question them and if they might be right or if its actually proven. I will write a separate post about diets I guess, because there is a lot of information here.
Back to yesterdays event, after Kayla finished the questions from her interviewer she answered some of our questions too and I really enjoyed the discussion. It showed me that these women where actually thinking twice before falling for mainstream B.S. which made me really happy. Questions that where asked included Kaylas future plans for her company and brand, including future workout programs. The whole time I really thought everyone was actively listening and trying to get as much information as possible, tips and advice and I'm sure most of the girls will try to include this new information into their daily routines.
At the end there was still enough time for everyone who attended the book presentation to meet Kayla and I can't say it enough, she is a very down to earth and has a super strong personality. She gives me the feeling – and I'm sure I'm not the only one – that she actually cares about her community. Not only is she a certified personal trainer and has tons of knowledge, she is also a real sweetheart and I enjoyed every second at this event and can highly recommend it.
If you would love to see a few live moments from yesterday, just head over to my Instagram account, I saved the stories under Kayla It
YESTERDAYS GOODY BAG INCLUDED:
Small notebook including a pen
Motivational quote
Tote