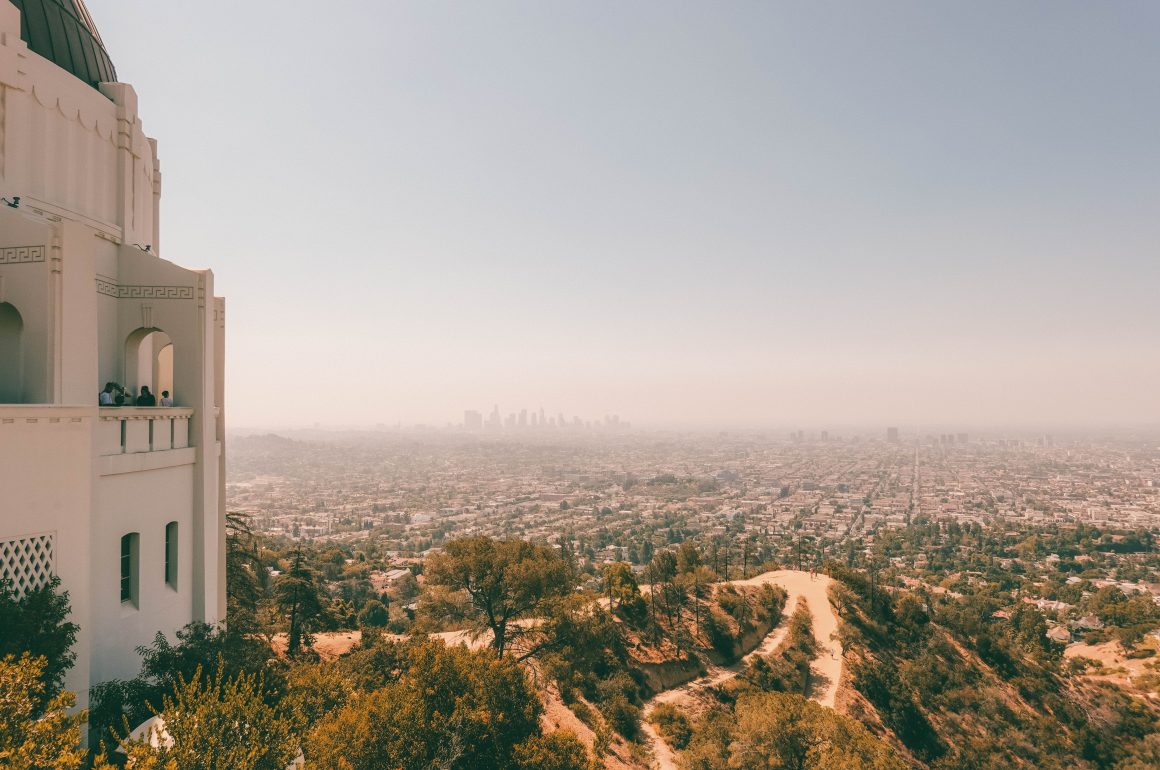 W
hen visiting California, you should definitely take the opportunity and go to Los Angeles. LA is a sprawling Southern California city and the center of the nation's film and television industry. Near its iconic Hollywood sign, studios such as Paramount Pictures, Universal and Warner Brothers offer behind-the-scenes tours. On Hollywood Boulevard, TCL Chinese Theatre displays celebrities' hand- and footprints, the Walk of Fame honors thousands of luminaries and vendors sell maps to stars' homes. Since we drove all the way from Palm Springs to LA we definitely had to narrow our list of spots in and around LA down to a few, even though we tried to fit in a lot we still needed time to get around the city. It is not as easy as it is in NYC because you'll need a car – which leads to a lot of traffic.
In Los Angeles, everyone is a star. - Denzel Washington
Our day started at 5:30 AM with a huge cup of coffee. After we got our rental car we drove straight to LA, which took us almost 3 hours. Our first stop was the Griffith Observatory which is Southern California's gateway to the cosmos! Visitors can look through telescopes, explore exhibits, see live shows in the Samuel Oschin Planetarium, and enjoy spectacular views of Los Angeles and the Hollywood Sign. On our way up we passed the Greek Theatre and took the other way back. If your schedule is a bit tighter try different routes – this way you might be able to see and explore more. Our next quick stops were the walk of fame (we did not really stop there we just drove by) and the famous Rodeo Drive. Both areas looked exactly as I imagined and even though I'm a New Yorker for four years now, I felt like in a movie – might be the close location to Hollywood. We drove further west outside the city to Malibu. It was almost noon and I was hungry. I found a cute looking spot called "Malibu Farms" on social media and always wanted to try it. The place is located at Malibu Pier on Surfrider Beach and offers two different types of options:
The Malibu Farm Restaurant: a full-service restaurant with full bar & specialty cocktails, located at the start of the pier.
The Malibu Farm Cafe: a counter-service cafe, located at the END of the pier, over the Pacific Ocean.
I'm always in for fresh, organic and local restaurants and we both really enjoyed being so close to the pacific and enjoyed the atmosphere. We decided to go to the restaurant and ordered two cauliflower pizzas with different toppings, ginger shots and one wine for lunch (someone had to drive), followed by a vegan peach ice-cream which was delicious. I'm not vegan but I love to try different food options, especially the healthy ones. After a beach walk we drove back to LA and stopped at a market which sells antique and imported things from Indonesia. It was a cute looking spot, but we did not end up buying anything. Our next stop was Marina del Rey. Marina del Rey is an unincorporated seaside community in Los Angeles County with a marina that is a major boating and water recreation destination of the Greater Los Angeles Area. After a quick coffee we went to Venice which is known for its bohemian spirit, it is a buzzing beach town with upscale commercial and residential pockets. Free-spirited Venice Boardwalk is the site of funky shops, street performers and colorful murals. There's also a skate park and Muscle Beach outdoor gym. Abbot Kinney Boulevard features foodie hot spots, stylish boutiques and coffee bars. A picturesque enclave of canals is surrounded by modernist homes. We spend the rest of our afternoon there. Our last stop for the day was Beverly Hills where we took a few "typical" LA palm tree pictures. Filled with lots of impressions and amazing memories we drove back to Palm Springs.